Ukraine's defenders killed about 30,500 Russian troops from February 24 to May 31, including 150 in the past day.
The General Staff of the Armed Forces of Ukraine said this on Facebook, Ukrinform reports.
The Ukrainian Armed Forces also destroyed 1,358 (+9) tanks, 3,302 (+20) armored fighting vehicles, 649 (+6) artillery pieces, 207 (+2) MLR systems, 93 (+0) air defense systems, 208 (+1) warplanes, 174 (+0) helicopters, 515 (+8) operational and tactical level UAVs, 120 (+2) cruise missiles, 13 (+0) warships/cutters, 2,275 (+11) other vehicles and tanker trucks, and 48 (+0) pieces of special equipment.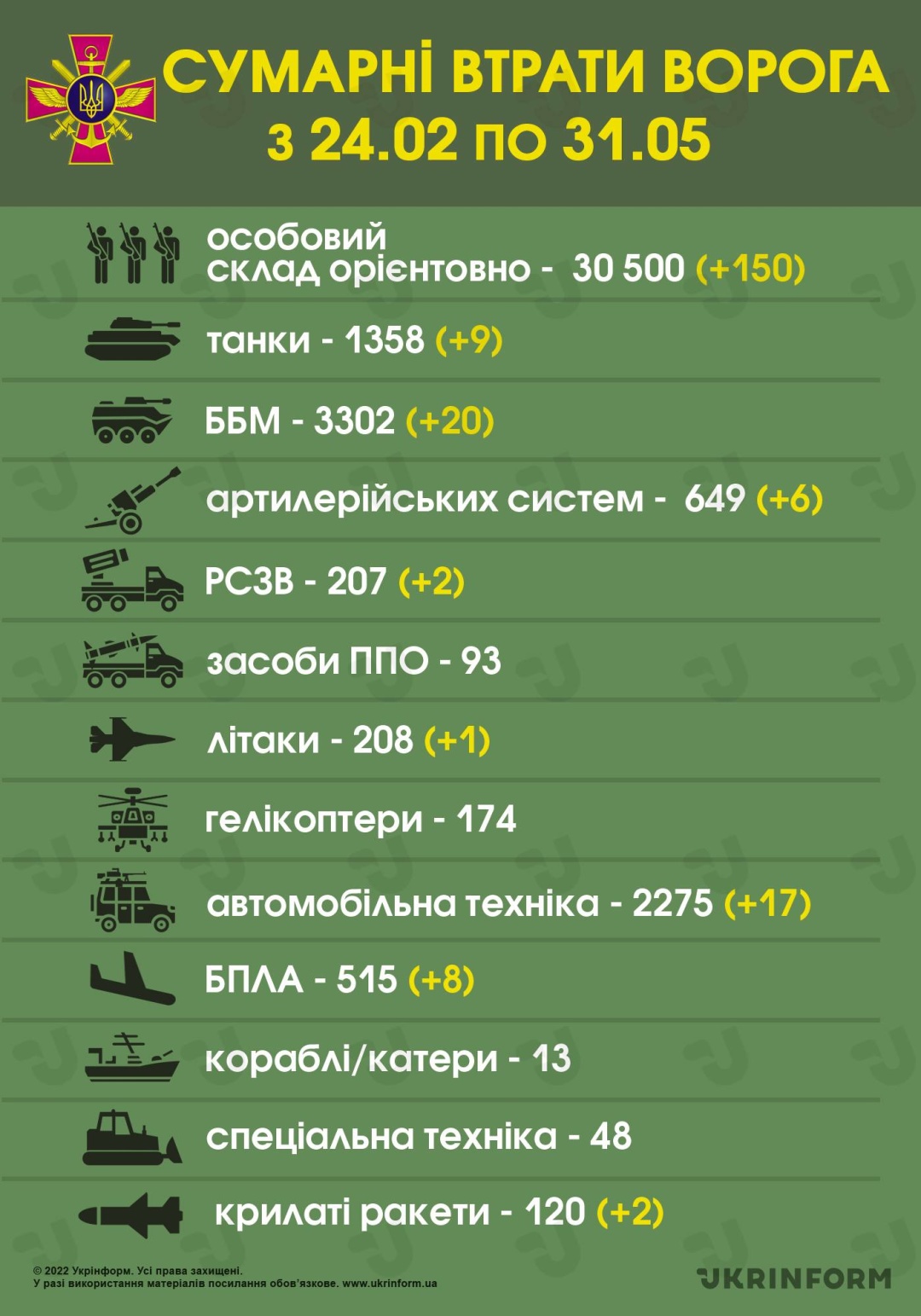 The enemy suffered the greatest losses over the past day in the Kryvyi Rih and Zaporizhzhia directions, the General Staff said.
WE NEED YOU AT THIS CRUCIAL TIME IN OUR COUNTRY, THOUSANDS ARE DISPLACED WITH A DAILY INCREASE IN THE NUMBER OF CASUALTIES FROM THE RUSSIA WAR AGAINST UKRAINE.
YOU CAN HELP US WIN, PROVIDE MEDICAL AID AND CARE FOR THE REFUGEES BY SUPPORTING A CAUSE ON U4UA  WITH YOUR DONATIONS. FROM AS LITTLE AS $1 A GREAT IMPACT CAN BE MADE IN WINNING THIS WAR.
                                                TOGETHER WITH YOU, UKRAINE WILL PREVAIL.