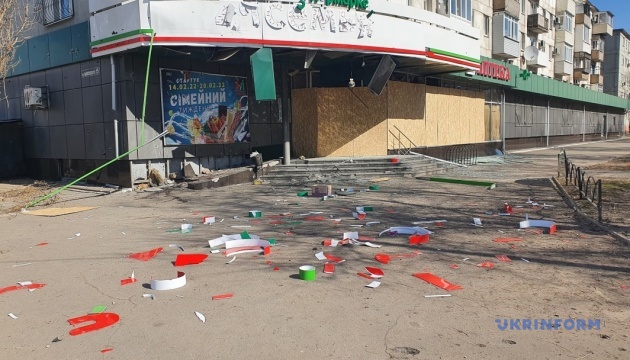 Russian invaders control part of the city of Sievierodonetsk in the Luhansk region, but they cannot move freely there.
Serhii Haidai, head of the Luhansk Regional Military Administration, said this during a nationwide TV marathon, according to an Ukrinform correspondent.
"The situation in our city remains extremely difficult. In Sievierodonetsk, unfortunately, part of the city is already controlled by the Russian army. A couple of days ago, they reported that the city had already been captured, but this was not the case. Our guys are there, they are repelling their [Russians'] attacks. That is, they [the Russians] cannot move freely there," Haidai said.
He noted that the Russians are now planning a military operation to clear the area around Sievierodonetsk.
"They are sending about a battalion of soldiers there who will pass through the surrounding villages. They are moving equipment like Solntsepek [heavy flamethrower] in order to simply burn our military, together with the civilian population, they don't care," Haidai said.
According to him, the entire part of the Luhansk region controlled by Ukraine is completely being shelled, but the enemy has no success in the direction of Zolote, Toshkivka and Lysychansk.
The Lysychansk-Bakhmut highway is not controlled by the Russian military, but it is being shelled, he added.
WE NEED YOU AT THIS CRUCIAL TIME IN OUR COUNTRY, THOUSANDS ARE DISPLACED WITH A DAILY INCREASE IN THE NUMBER OF CASUALTIES FROM THE RUSSIA WAR AGAINST UKRAINE.
YOU CAN HELP US WIN, PROVIDE MEDICAL AID AND CARE FOR THE REFUGEES BY SUPPORTING A CAUSE ON U4UA  WITH YOUR DONATIONS. FROM AS LITTLE AS $1 A GREAT IMPACT CAN BE MADE IN WINNING THIS WAR.
                                                TOGETHER WITH YOU, UKRAINE WILL PREVAIL.