Due to the high-precision strikes of the Armed Forces, not only warehouses and equipment are fired, but also headquarters and rare military specialists
The Armed Forces of Ukraine increased the pace of liquidation of the commander-officer ranks of the Russian army. A real surge in the number of "two-hundred" Rashists in this category was noticed even in the Russian Federation itself, on the basis of exclusively published reports.
In particular, over the past two weeks, it became known that more than 80 officers, including 10 colonels, were declared dead. And this is about 10% of the 852 recorded reports of losses among officers. This calculation was carried out by the BBC and the Russian publication "Mediazon", which monitors public reports about the losses of the Russian army.
In total, as of July 22, they managed to find only 4,940 messages. Which, according to the data of the General Staff of the Armed Forces, is 12.6% of the total number of 39,000 destroyed Rashists.
But it is possible to trace the following correlation with the total number of officers in the Russian army relative to the total number. The latest public data are at the level of 2015, when the Ministry of Defense of the Russian Federation announced that the officer corps numbered 200,000 soldiers in all armed forces, with a total number of about 1 million.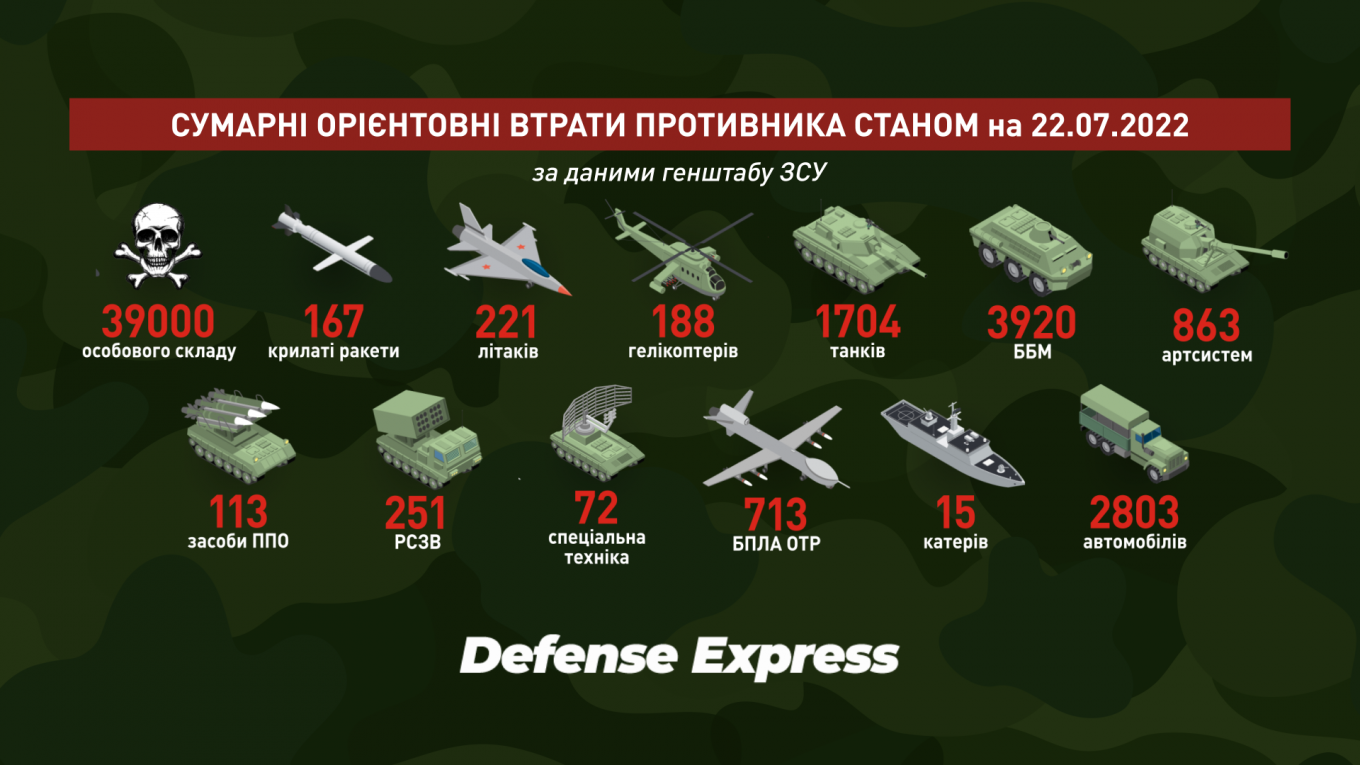 That is, about 20% of officers in the Russian army. Almost the same ratio is observed in relation to the reports of losses made public in the Russian Federation – 17%. Thus, taking into account the data of the General Staff of the Armed Forces, the real losses of the Russian army in the officer corps may amount to about 6,700 soldiers. And in the last two weeks, we should be talking about approximately 600 liquidated Russian officers in the ranks from junior lieutenant to general.
Taking into account the fact that during this period the Armed Forces began to actively destroy rear facilities, and in addition to warehouses, we are talking about command posts, headquarters, communication centers, radar and EW positions, this situation fully corresponds to reality. At the same time, the training of officers, who are the basis of the calculations of various complexes and stations, takes a considerable amount of time, and it is impossible to quickly "put in place" a replacement for them.
WE NEED YOU AT THIS CRUCIAL TIME IN OUR COUNTRY, THOUSANDS ARE DISPLACED WITH A DAILY INCREASE IN THE NUMBER OF CASUALTIES FROM THE RUSSIA WAR AGAINST UKRAINE.
YOU CAN HELP US WIN, PROVIDE MEDICAL AID AND CARE FOR THE REFUGEES BY SUPPORTING A CAUSE ON U4UA  WITH YOUR DONATIONS. FROM AS LITTLE AS $1 A GREAT IMPACT CAN BE MADE IN WINNING THIS WAR.
                                                TOGETHER WITH YOU, UKRAINE WILL PREVAIL.